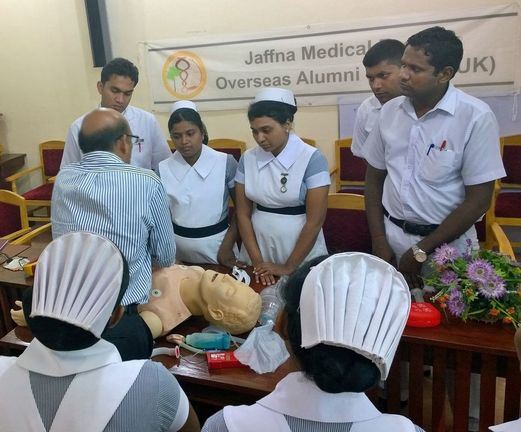 In the past year we have expanded the coverage of our Resuscitation Project from 14 to 25 hospitals in the North and East of Sri Lanka (see map below): Analaitivu, Batticaloa (Teaching Hospital), Chankanai, Chavakachcheri, Echilampaththai, Jaffna (Teaching Hospital), Kalmunai North, Karainagar, Kayts, Kilinochchi, Mallavi, Mankulam, Mannar, Mullaitivu, Nainativu, Oddusuddan, Point Pedro, Pungudutivu, Puthukkudiyiruppu, Tellipalai, Thirukovil, Trincomalee, Vaharai, Velanai and Vavuniya
We have performed Needs Assessments and, using funds generously donated by our supporters through our annual fund-raising programmes, as well as from our sister JMFOA organisations in North America and New Zealand, have donated more vital equipment to these hospitals, to monitor deteriorating patients and treat cardio-respiratory arrest (see table below).  Specialist members of our team have, in addition, continued their programme of on-going training in cardiopulmonary resuscitation for these hospitals, and in the past year, we have included training in the resuscitation of children.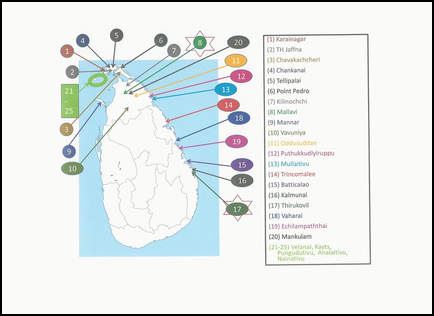 We want to concentrate now on supporting two of the most deprived hospitals we have identified – Mallavi Hospital in the North and Thirukovil Hospital in the East (see map opposite), including the purchase of an essential medical steriliser for Thirukovil Hospital.  In addition, we are working with Teaching Hospital Jaffna to set up a 24/7 Cardiac Arrest emergency team, which would be one of the first of its kind in Sri Lanka.
When JMFOA-UK members started visiting the North after the war ended they recognised the need for a Life Support training programme for doctors and medical students in Teaching Hospital, Jaffna (THJ).  This was prompted partly by Dr.Vetpillai, who worked as a voluntary surgeon in Mannar hospital immediately after the war, looking after seriously injured patients. Dr.Vetpillai is an Advanced Life Support (ALS)  instructor, Advanced Trauma Life Support (ATLS) trained a senior doctor and former senior lecturer of the Faculty of Medicine, University of Jaffna.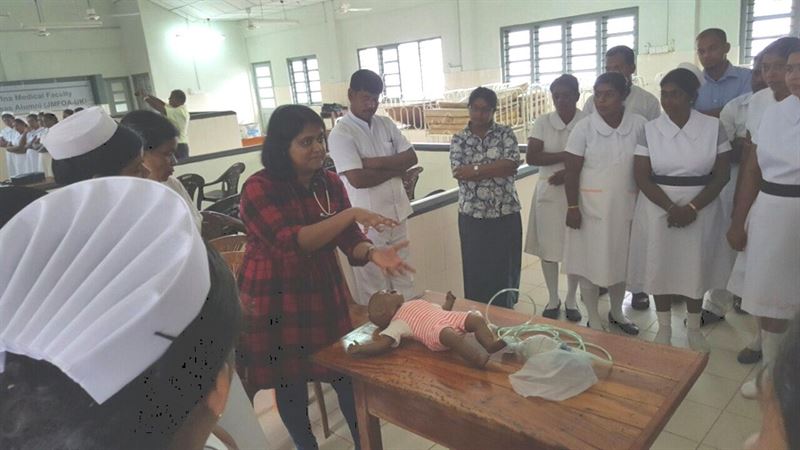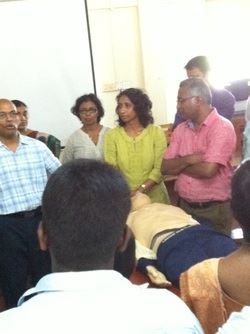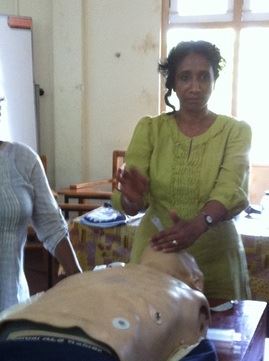 For many years, doctors in Sri Lanka did not have the opportunity to be trained in ALS and ATLS. More recently ALS is being taught in Colombo and being cascaded gradually to Jaffna, too.
Since 2010, regular teaching and training sessions in ALS, ALTS and Basic Life Support (BLS) have been conducted by a team of doctors from JMFOA-UK, comprising Dr.Vetpillai, Dr.Sathialingam, Dr.Mrs.Sathialingam and Dr.Mrs. Mathialagan. Consultants from TH Jaffna, Dr.T.Ambalavanar, Dr.Premakrishna, and Dr.Vasumathi, have participated in some joint teaching sessions.
The above-mentioned team has conducted the following ALTS/ALS teaching /training sessions:
May 2010 – teaching ALS/ATLS to medical students and nurses in Jaffna.
May 2011- ALS/ATLS teaching to registrars and medical students in Jaffna.
Jan 2013 – ALS/ATLS training to doctors, nurses and medical students in Jaffna.
Jul 2014 – ALS/ATLS teaching to nurses at School of Nursing, Jaffna.
Feb 2014 – BLS training for nurses and discussions with consultants and Director re ALS  and Simulation Centre.
Jul 2014 – BLS/ATLS  for doctors, nurses and ambulance staff at Pannai chest clinic.
May 2015 – ATLS taught to doctors, nurses and ambulance staff at Kilinochchi hospital.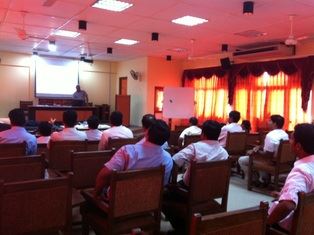 The teaching sessions were all well attended, with enthusiastic participation followed by good feedback.
Recently there were requests from peripheral hospitals to conduct similar teaching sessions. This encouraged us to conduct a training session at Kilinochchi Hospital in May 2015, organised by Dr. Thayalan Ambalavanar, senior lecturer in surgery, Faculty of Medicine, Jaffna.
We are, at present, using manikins which are old and only partially functional. There is an urgent need for manikins, a fully functional teaching defibrillator and other equipment to support the continuation of this teaching programme of Essential Life Support Skills to doctors, nurses and ambulance staff in Jaffna.
In the long term, our intention is to establish a modern Skills Laboratory in THJ and develop a fully equipped Resuscitation Team in THJ and other hospitals, bringing the region to the healthcare standard of other similar countries.
With this in mind, JMFOA-UK organised a fund-raising event in April 2014 and is preparing for another on 12th September 2015.
We need your whole-hearted support towards this essential project.