Promoting Mental-Health Awareness & Wellbeing and Supporting Tamil Diaspora Community in the UK by Providing counselling Services in Tamil.
---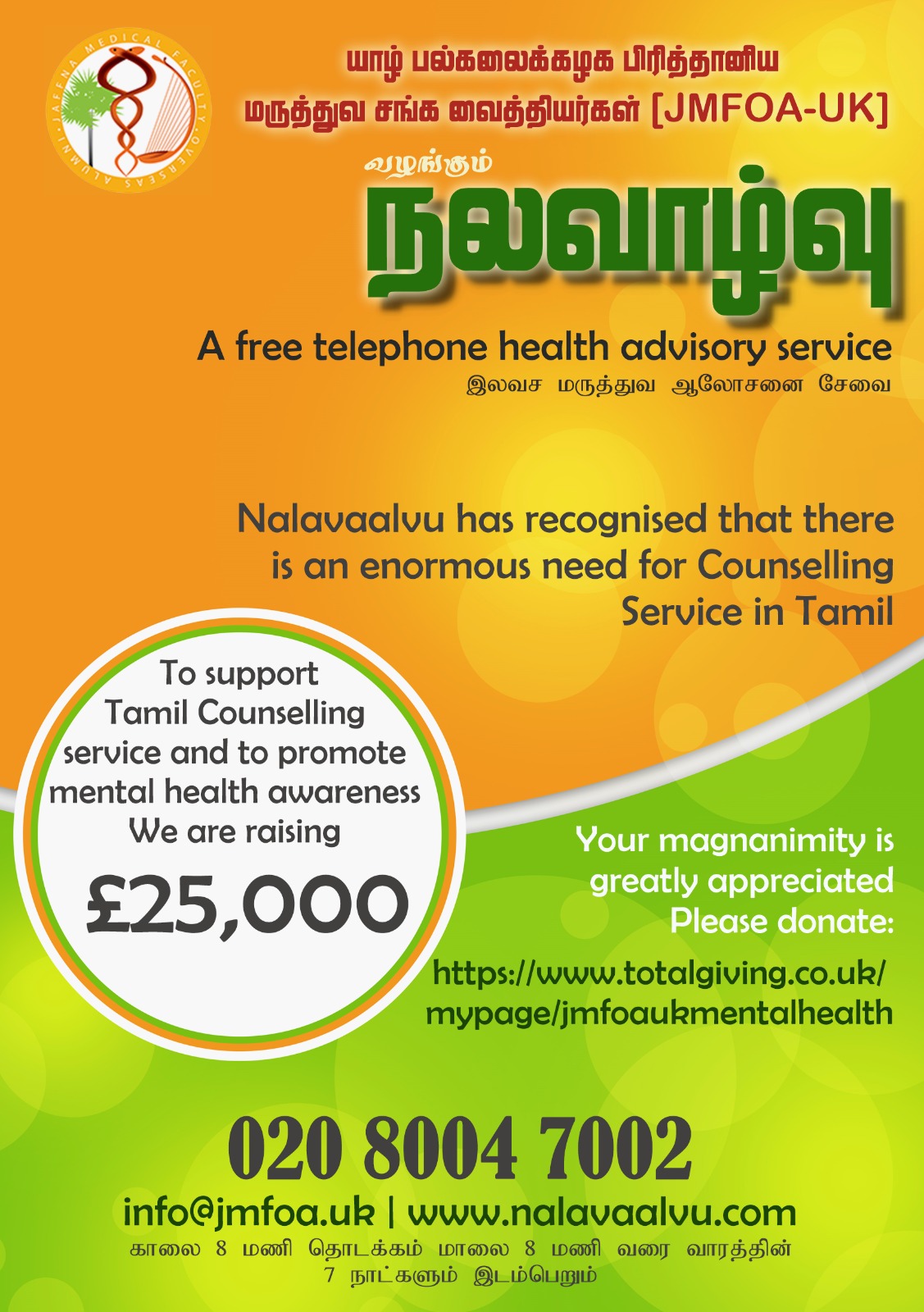 ---
We are raising funds for establishing a Counselling service in Tamil for our community in the UK.
Since the Covid-19 pandemic started, our Tamil community is one of the worst affected in the UK. London is one of the most severely affected major city in the world by covid19 infection. Most of the Sri Lankan population live around the Greater London area. During the early part of the pandemic, many Sri Lankans have died, multiple tragic incidents have occurred in the Tamil community. During the lockdown period, the Sri Lankan population have faced with an increasing number of unsolved medical, psychological, and family-related issues because they found it difficult or impossible to contact their GPs or hospital doctors for their needs as NHS was overstretched due to high volume of the workload from the pandemic. These made SriLankan community into a state of panic and desperation.
JMFOA UK is a registered charity in the UK and all of its members are medically qualified doctors of Sri Lankan Origin, currently working or worked in NHS. We were in a better position to help the desperate Sri Lankan community. JMFOA-UK launched a free telephone advisory Tamil helpline service called "Nallavaalvu" on 12th May 2020 to provide an advisory service on their health-related queries in Tamil and to signpost them to the appropriate services.
Since we started this service, We are receiving numerous calls with mental health-related problems. The language barrier, cultural taboos and longer waiting time for NHS Counselling are hindering our Community to seek appropriate help on time. This is the reason that we have launched "Counselling Service in Tamil" by hiring qualified Tamil speaking Counsellors. We need your support to provide this Counselling service uninterrupted to our community.
Please click the link below to support or Donate :
https://www.totalgiving.co.uk/mypage/Nalavaalvu
DISCLAIMER: The information on this blog is for News Reporting and Educational Purposes Only.